PROGRAMMA
VIOLAVIRUS:
08 maart 2008: Viola van Alphen presenteert het werk van een jonge generatie mediakunstenaars, ViolaVirus is een tentoonstelingsplaats voor jonge kunstenaars, ontstaan vanuit PLANETART, met meer nadruk op Dromen, Virtuele Werelden, Verboden Dingen: experimenten aan de grens.
zie recent artikel op:
http://www.virtueelplatform.nl/article-10444-nl.html
Hieronder een selectie uit Second Life werk waar VIOLAVIRUS voor staat, grenzen zoekend in de Virtuele Werelden. Juist dàt is wat welke wereld dan ook interessant maakt, niet alleen de eye-candy, maar ook het publiek een spiegel voorhouden, hoe zien de "kwalijke zaken" van het internet er nu precies uit? Volgen we alleen de krant in onze mening, of kijken we eerst zelf? Aanschouw!
1: Jesus cross, 2: nazi world, 3: nazi youth camp, 4: frontal attack at public openings of new sims with mario's and penis attacks, 5: art man, 6: child play, 7: more art and hackers, 8: censorship will lead to the end of fun, 9: gay world, 10: child play, 11: gay activism, 12: activism: demo punk against censorship, 13: gay world: super fun happy club

SL Art Blogs/Websites:
http://virtualartistsalliance.blogspot.com
http://www.nmc.org/sl/
http://www.slatenight.com
http://sl-art-news.blogspot.com
http://irwinandzohari.wordpress.com/
http://slartmagazine.com/
http://arsvirtua.com
http://slartistnetwork.proboards51.com
http://chromotive.deadjournal.com/20048.html
http://chromotive.deadjournal.com/15195.html
http://www.sandwoman.tk

in memoriam of the Super Fun Happy Club
Exhibition 24/7 zichtbaar vanuit de straat: 23 Maart t/m 15 April
PLANETART ViolaVirus, an exhibition space of young artists Weteringschans 181 Amsterdam:

***********************************
*** GAZ OF THE DESERT ***
***********************************
A movie by Gazira Babeli
***********************************
Created February/March 2007
Within Second Life
on Odyssey simulator
http://www.gazirababeli.com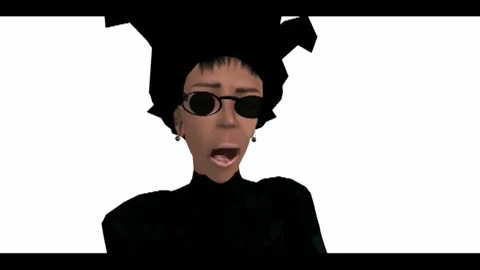 <play movie>
******************************
********* Amazing *********
******************************
A movie by Liz Solo
******************************
Liz Solo is a performance artist and musician.
She lives in St. John's Newfoundland, Canada.


www.lizsolo.com
********************************************
**** De Nieuwe Nederlandse Vlag ****
********************************************
by Alexander Krone
********************************************
I have asked immigrants to draw ideas for a new Dutch national flag.
It is a visual approach to understanding of national identity
and an investigation of the idea of belonging to one.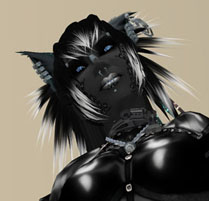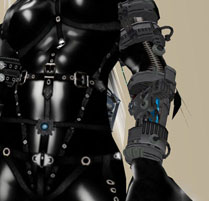 ************************PIGHED************************
Mark Stephen Meadows (aka Pighed) is an artist, writer, and engineer with over 15 years experience in interactive media. Co-founder and Creative Director of HeadCase Humanufacturing he has also spent time at Xerox-PARC, Stanford Research Institute, and The Waag.
The author of Pause & Effect, The Art of Interactive Narrative he helped build the third commercial web server (1992), the first open-protocol 3D multi-user environment (1997), and has won awards such as the Ars Electronica Golden Nica and the Cooper-Hewitt National Design Museum's highest honors. Currently writing a book on digital humans, he is based in Los Angeles where he lives on his boat, paints, writes, and plays accordion. After the first attack on Iraq, Mark Meadows hitchhiked from Kuwait to Baghdad a few years ago, wanting to experience first hand what the mass media filters might not reveal to the public.
Voodoo Workshops
sign up through: http://www.mandragora.nl
-------------------------------------------------------------------------------------------------------------------------------------------
Find Your New Favourite Piece of Cloths
with free Jean Paul Gaultier and other clothes.. to make the city more Beautiful again.
Every woman has some clothes she doesn't wear anymore, but which are too precious to just throw away. For all these ladies seeking for a new best place for these special clothes, we present this evening. You can bring whatever you like: your charmes, your good humor, your own special clothes that seek a special new place or can even ask money for it, whatever you like, just feel free!
sign up for this Lady's night viola a planetart.nl
-------------------------------------------------------------------------------------------------------------------------------------------
related information:
VJ Performances:
De allereerste VJ performance met PUUR Second Life materiaal door VJ
Sandwoman Petion.
Vrouwelijke elementen in de electronica zijn zeldzaam zijn en juist daardoor
extra bijzonder! Harde werelden, stalen klanken, mechanische geluiden, en
een vrouwenstem hierdoorheen. David Lynch achtige werelden op Second Life,
Sandwoman Petion als een stoer en toch verloren meisje in een grote, mannelijke wereld.


KaH (Dance/Electro)
De stijl van KaH is een mix van electro, minimal en techno. Haar live sets klinken sensueel en donker, laten een breed geluidsspectrum horen en zijn een lust voor het oor.
Wat haar sets bijzonder maakt, is dat zij meer is dan alleen een dame met een laptop. KaH voorziet haar tracks van live zang en synthesizer, waardoor ze veel ruimte heeft om te experimenteren en te improviseren met sounds. Speelde dit jaar o.a. op ROBODOCK, Festival De Beschaving, Parade, Festival a/d Werf, De Melkweg, Paradiso.
September 2007:
GOGBOT FESTIVAL! EnvironMental Arts, Media & Technology. Het thema, Mediapolis, over het onstaan van een Virtuele Stad door de opkomst van nieuwe media (games, internet, etc).
Inspirerend, confronterend, kleurrijk en vernieuwend. Multimediale tentoonstellingen, performances, installaties, experimentele muziek en projecties van shortfilms en video's.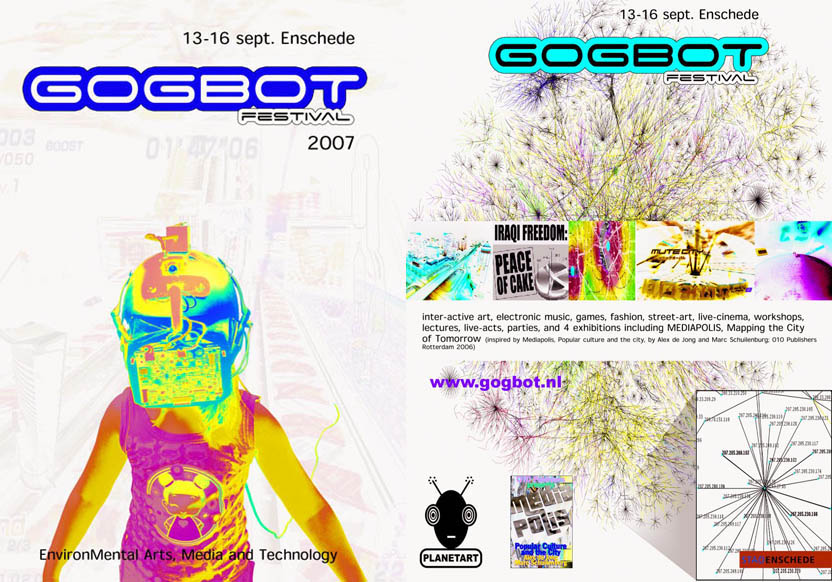 Second Life gedeelte GOGBOT festival:
- Second Life fiets Marc Otte
- DFM independent broadcasting
- Marloeke vd Vlugt
- Sandwoman Petion
- 2E LEVEN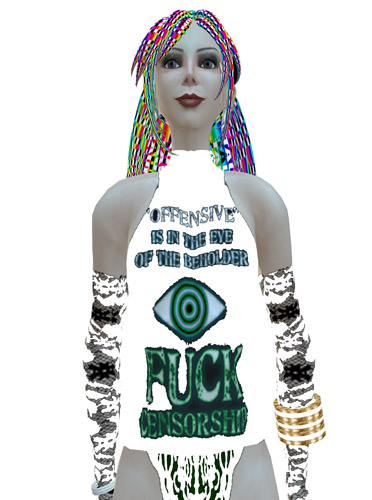 "Internetpionier Viola, de eerste persoon met een eigen .nl domein naam in Nederland"
"Deze maand kwam zij meermaals in de kranten, doordat zij èn een deel van de productie van het eerste theaterstuk in Europa op Second Life deed, èn meewerkte aan de verbluffende collecte van het rode kruis op Second Life."
VIOLAVIRUS:

achtergrond info internet pionier Viola: ( www.sandwoman.tk en http://planetart.wordpress.com )
Vier jaar geleden ben ik begonnen als Second Life expert voor het
bedrijfsleven en overheid, begin 2007 ben ik begonnen met het geven
van workshops, lezingen en consultancy advies. Second Life is een
laagdrempelige mogelijkheid tot het creëeren van kunst: er is directe interactie
mogelijk tussen creator en spectator, het is platform, hulpwereld en
toonwereld tegelijk. In Second Life hoeven kunstenaars geen last te
hebben van de zwaartekracht, ze hebben geen dure materiaalkosten, en kunnen
vanuit het gevoel van grenzeloosheid elke nieuwe droom creeeren, maar ook de
grenzen opzoeken van wat mogelijk is, en wat er opnieuw mogelijk is.
3D environments zoals de grootste user generated content wereld Second
Life, bieden visueel steeds interessantere mogelijkheden.


Mijn favoriete Second Life links,
onderdeel van mijn workshop "Advanced Building in Second Life":
TGA:

http://www.sluniverse.com:80/kb/article.aspx?id=10199



Sculpted prims:

http://benjakepler.wordpress.com/tag/building/sculpted-objects/


Advanced, met Blender:
http://amandalevitsky.googlepages.com/sculptedprims


Teleportlink:

http://cterport.ed.uiuc.edu/technologies_folder/SL/teleport.html/


Dropbox en meer:
http://cterport.ed.uiuc.edu/technologies_folder/SL



advanced sculpted:

http://www.wings3d.com [$=FREE]
http://www.blender.org [$=FREE]
http://www.autodesk.com/maya [$=MAYA-PLE=FREE]

overig:
http://www.sltutorials.net/
meer kunst: http://sl-art-news.blogspot.com/

==================================
PLANETART - VIOLAVIRUS
Weteringschans 181 1017 XD AMSTERDAM
post: Noorderhagen 11 7511 EJ Enschede
organisatie voor de multi-mediakunst
http://www.planetart.nl
http://www.gogbot.nl

==================================